Why are analytics reporting and reporting platforms so important?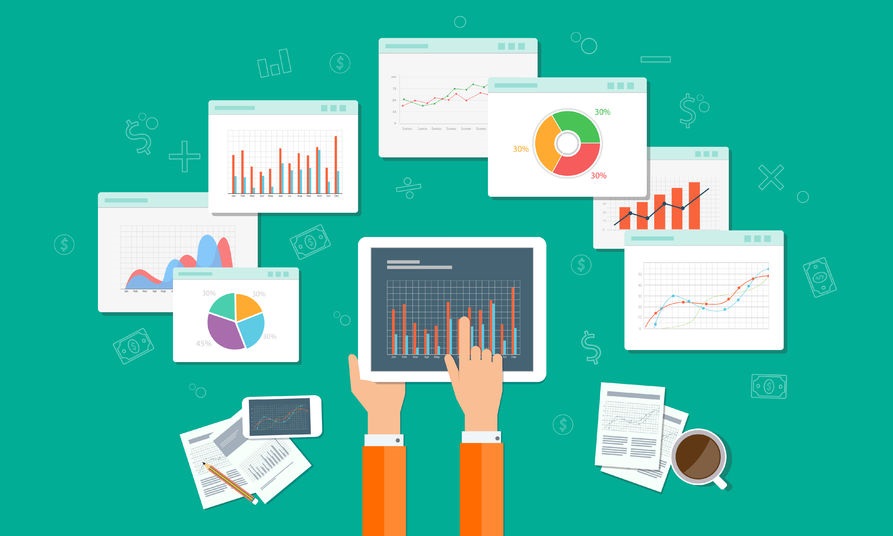 Analytics reporting platforms (such as Tableau, Power BI and Google Data Studio) allow your organisation to easily gather, identify insights and spot trends from their data.
Good reporting allows members of your organisation who are not so data literate to easily understand and make helpful decisions from the data collected.
This could include members of your marketing team who simply need to understand key insights to assess and improve campaigns utilising certain channels. For example, to understand which channel gave the best return on investment in a specific online advertising campaign.
In short, reporting allows you to establish and measure important Key Performance Indicators (KPIs) to evaluate the success of marketing and sales campaigns.
Why is harmonising multiple platforms an issue?
Over time organisations can often find themselves with multiple websites in order to show their full offering. This could include country sites, product sites, blog sites and more.
They often also have multiple sources of their data – for example stored in different active databases, their CRM system (eg Salesforce) or their Email Service Providers (ESP). We often see organisations really struggling to bring together all their data into one place in order to gain helpful intelligence and take important decisions from a holistic view. In reality many are faced with data spread across multiple dashboards or excel spreadsheets and in a variety of formats.
The importance of viewing a holistic (and accurate) picture

The problem with not being able to view an organisation's online presence holistically is that important marketing, sales and customer experience insights can be easily missed or misinterpreted. For example, although one marketing channel might initially look like it's failing, in reality it may be fuelling another more important channel.
In these cases, the only way to understand what channels are performing best is by delving deep in your data; across your business as a whole. It means looking at your reporting platforms and assessing how they can give your organisation the real insights it needs.
To give you an example of this, one client we worked with had over 30 country sites and 15 blog sites. They wanted to better understand how their marketing efforts were working as a whole. We collated all their data into one database which could then be used to build a reporting suite in Google Data Studio (GDS). This enabled them to see trends across sites and compare important KPIs such as Bounce Rates and Engagement Rates. If you would like see how we could do this for your business, please click here.
How can I consolidate my analytics reporting?

Consolidation very much depends on which platforms you use and the integrations they offer. Before you start to harmonise, it's worth:
1 Exploring…
… what integrations your currently platforms offer. For example GDS and Tableau enable basic integrations with some providers like Google Analytics and MySQL. Google 360 is now allowing for the integration of third party services such as Salesforce and more. Be mindful that prebuilt integrations do not necessarily connect to every data source. This could leave you with areas in your reporting which may be either incomplete or inaccurate.
2 Weighing up…
… the cost of a custom-built platform, rather than trying to shoe-horn what you want into an 'off-the-shelf' one. With platforms such as Google 360 being expensive you may find a custom-built approach not only gives you what you want, but is cheaper in the long-run. For example, WebFusion allows for the integration of nearly any data source. This means you can be confident you are not missing any vital information. Its custom APIs can be used to create a complete picture of all your online and offline data. This then allows you to look at an increased amount of marketing channels and compare key KPIs for a better understanding of your marketing efforts.
3 Being very clear…
… about what exactly you want to measure. It will make it far easier further down the line if you have this clarity. Being specific will help you to establish the right tracking mechanisms to give you the metrics you need.
4 Considering…
… starting small and getting integrations working for a small number of KPIs. This can give you useful insights more quickly, than if you try and create a system that tries to assess multiple ones across different sources across the organisation.
Summary
Off-the-shelf products such as Tableau and Google 360 may be quick to set up, but over time you may find they lack the customisation needed to evaluate your organisation's unique marketing/sales set up and approach. If you are looking to get more meaningful full insights from your analytics platform, consider whether a bespoke approach would be cost effective. Harmonising all your analytics into one central platform isn't a holy grail and is indeed possible. You certainly don't have to compromise the information you need to make your organisation effective and successful
Can we help?
If you or your organisation needs support in this area, feel free to get in touch. We strongly recommend WebFusion as an invaluable and highly cost-effective tool to give you all the insights you need. It can connect to almost any database and platform. With this in mind you can rest assured you have all the data you need ready and waiting.
Contact us on T: 0203 2875387 E: info@fusion-analytics.co.uk