Fusion Analytics help organisations capture and integrate their digital data smoothly with other data sources. We then leverage the outputs of the integration to help them better understand their customer and prospect behaviour. They in turn use the insights to gain new customers and retain existing ones. In doing so, we often use our own marketing attribution tracking software called Webfusion.
Introducing WebFusion – capturing multi-channel data to a single view at a fraction of the cost
Want to understand what your customers are doing online?
Customers are engaging with more touch points than ever before, but business reporting is often still siloed by channels – such as website, social, CRM and TV.  WebFusion from Fusion Analytics allows you to see the whole customer journey, looking at:
The number of times a NEW customer visits a site before buying
Which sources a customer responds to and how they work together; do your DM prospects respond via social media or PPC?
What products the person is looking at – for example, determining if they have aspirations for more expensive products or simply truly bargain hunters?
Identify older prospects that are still engaging, even if they are not buying
More than your "standard" digital analytics packages
WebFusion is the single customer view for the digital age. Yes we have impressive marketing and business reporting, but underneath it all is a good old fashioned database. The database means that we can: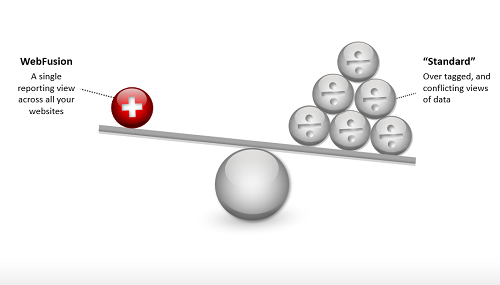 Reduce your tagging effort, by capturing more tags and cleaning them in the reports
Change data historically, to test new web segments, to clean incorrect tags, or support with website migrations
Simplify multi-site reporting – for example, capturing everything once rather than having to tag each event multiple times for different "views"
Track across other digital platforms like banner ads, emails, or affiliate sites with your own pixel
How can I find out more:
Click here for a free consultation