The hidden costs in some free analytics software
Recently, we have seen a trend in businesses moving over to open sourced free software solutions for flexibility and cost-effectiveness.  But do they actually bring these benefits to a business in the long-run?
This is a question Fusion Analytics MD and Chief Data Evangelist – Howard Thompson – has tackled in his latest LinkedIn article – Three Reasons Why Paying For Analytics Software Makes Sense.
In the article, Howard covers:
The two analytics decisions businesses invariably want to discuss
Hidden costs of free open sourced analytics solutions
The highs and lows of paid-for analytics software
Key considerations your business should evaluate when organising your analytics reporting
Click on the image to read the article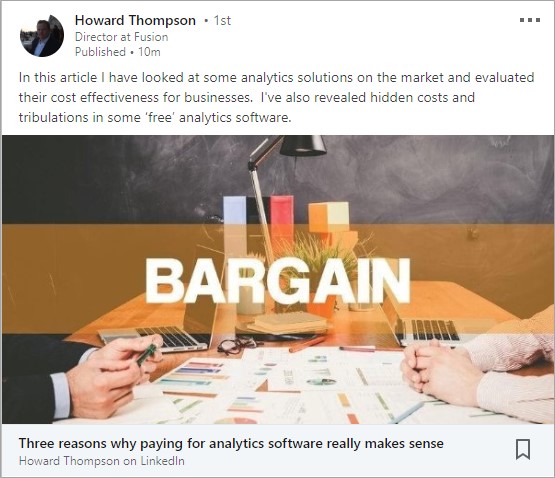 Can we help?
If you would like help evaluating the best analytics approach for your organisation, please contact The Fusion Analytics team for an initial consultation on email: info@fusion-analytics.co.uk  or tel: 0203 287 5387